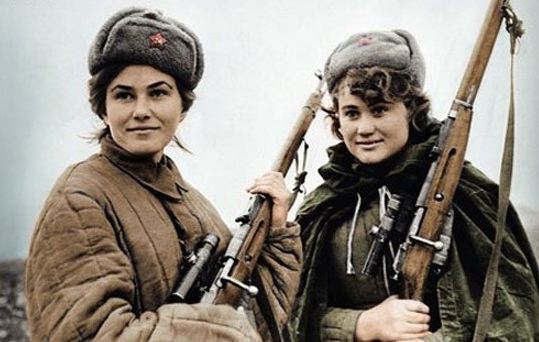 In 1942, Adolph Hitler deployed much of his German army to Stalingrad, a city on the edge of the oil rich Caucasus Region in the Soviet Union. U.S.S.R. leader Joseph Stalin, not wanting to lose his namesake city to the Nazi invaders, ordered the Soviet army to hold Stalingrad no matter the cost. The resulting battle, in which Soviet forces prevailed over their Nazi adversaries at a significant cost in lives and equipment, saw the bloodiest fighting of the world's bloodiest war. Over one million people lost their lives during the Battle of Stalingrad, and a once magnificent city was reduced to rubble. Stalingrad was hell on earth.
Beauty, however, found its way through the smoke and ash of Stalingrad. Needing manpower to stop the invading Germans, Stalin began conscripting women into the Soviet military. These women came from different walks of life, but all exuded….
You know what? This is ridiculous. There's no justifying the complete idiocy of this post. Instead of pretending that there's some deep meaning to this thing, let's just get to it. We now present the most ludicrous, unnecessary list of all time. Here are the Top Ten Hottest Women of Stalingrad:
10. Mariya Dolina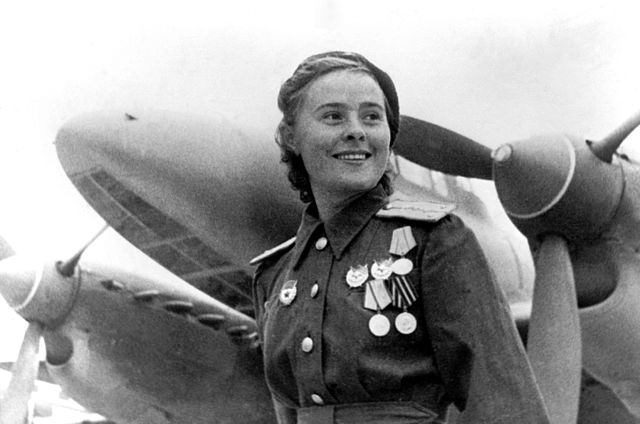 In the late 1930s, Soviet Mariya Dolina began training at a civilian flying club while working in a factory in Kiev. Soon thereafter she entered the military, where she trained Russian fighter and bomber pilots. After the German invasion of the U.S.S.R., Dolina became a member of the 125th Guards Bomber Regiment, where she ferried infantrymen and supplies to the front lines of Stalingrad. Soon thereafter, Dolina made her first bombing run, hitting German ground forces at Stalingrad.
During one bombing run in 1943, anti-aircraft fire hit Dolina's craft. In spite of heavy damage and with her fighter escorts failing to show up, Dolina continued to her target and delivered her payload. Unfortunately, six German fighters descended on her unprotected plane. One fighter pilot was so brazen that he flew next to Dolina's plane and alternately raised one and two fingers. Dolina later learned that he was asking whether she wanted to be shot down in one pass or two. After German gunfire ignited a fuselage, Dolina managed to land her burning aircraft and she helped her crew escape the wreckage. She flew seventy-three missions during WW2 and continued to serve in the Soviet Air Force after the war ended.
9. Aleksandra Samusenko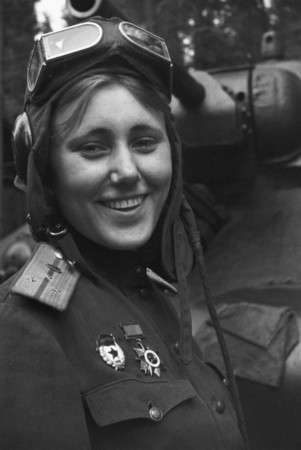 Very little has been written about Aleksandra Samusenko in English. She was a member of the Soviet armed forces before the war and one source indicates that she fought for the U.S.S.R. in the Spanish Civil War and the Winter War in Finland. It's unclear from present information, but her records indicate that she was a member of an infantry regiment at Stalingrad.
Her true claim to fame, however, came in the last years of the war. As the only female tank officer in the 1st Guards Tank Army, Samusenko performed heroically during the Battle of Kursk, earning the Order of the Red Star. When her battalion commander fell in a later battle, Samusenko took charge and led her forces out of an ambush. She would serve as a tank commander throughout 1943 and 1944. One source reports that Samusenko died during the Soviet assault of Berlin, while another says that she died after a Russian tank became lost in the dark and crushed her under its tracks.
8. Roza Shanina
Roza Shanina joined the Soviet military just as German forces were fleeing from Stalingrad (so she doesn't officially fit on this list, but whatever. She's awesome). When Shanina reached front lines and recorded her first sniper kill, her legs gave out under her and she collapsed under the gravity of what she'd done. Shanina soon got over her apprehension and became one of the most successful snipers in the war. By May 1944, she'd wracked up 17 kills and had earned the reputation as a master of scoring doublets (two kills in rapid succession). Perhaps more impressive, Shanina won a sniper duel with a German adversary, and she personally captured three enemy troops. In January 1945, German forces managed to surround and kill 72 of 78 members of Shanina's unit. Although the sniper survived longer than her fellow soldiers by hiding in an artillery barrel, she was killed while shielding a friend from shrapnel.
7. Meklin Natalia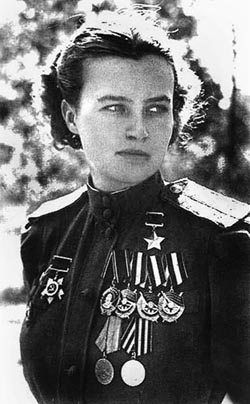 Meklin Natalia became one of the U.S.S.R.'s most successful bomber pilots. She belonged to a squadron known as the Night Witches, so named because it was made up of all female pilots who flew only night missions. During the Battle of Stalingrad, Natalia flew a number of missions bombing German supply lines. As the Germans fled Stalingrad in 1943, Natalia peppered them with bombs. Natalia survived the war having successfully flown 980 night missions. She was awarded the Hero of the Soviet Union medal and later became a writer.
6. Female POW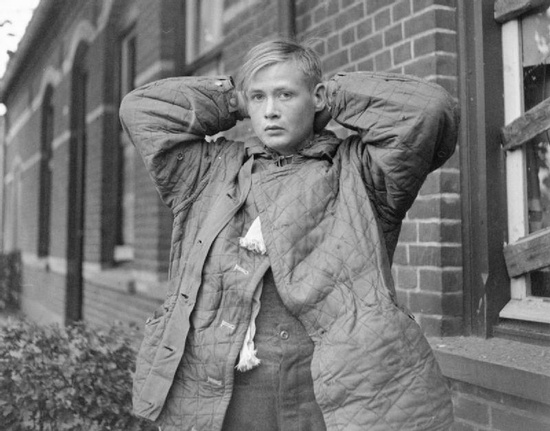 This stunning and sensual beauty was captured while…. Wait…. That's a dude isn't it? Yeah, definitely a dude. Crap. Moving on. Pretend this didn't happen.
6. Ekaterina Mikhailova-Demina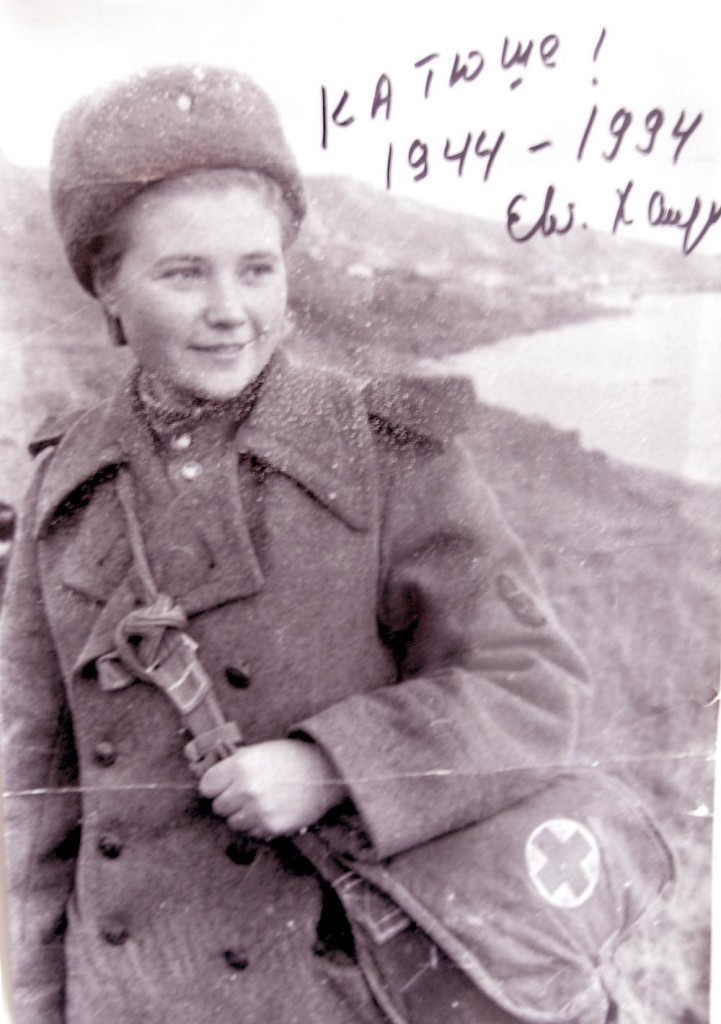 Ekaterina Mikhailova-Demina was a Soviet Army nurse as well as a reconnaissance officer. She was injured during the German advance into Russia in 1941 and assigned to duty on a Soviet hospital ship in the Black Sea. In late 1942 and early 1943, Mikhailova-Demina's ship was responsible for transferring wounded soldiers from the front lines of Stalingrad to safety in the Siberian interior. After receiving a promotion, Mikailova-Demina requested and was granted permission to serve on the front lines. During the Soviet counteroffensive of 1944, Mikailova-Demina joined male colleagues in scouting German lines. While serving in the Ukraine, she personally assaulted a German position and took fourteen prisoners. Although wounded later in the war and ordered to remain on bed rest, Mikailova-Demina snuck out of the hospital and returned to her unit. She is still alive today.
5. The Women of the 1077th Anti-Aircraft Regiment
In August 1942, the women of the 1077th Anti-Aircraft were tasked with, well, anti-aircraft stuff. They were not prepared for tanks. Unfortunately, that's what they got. When a German Panzer division moved in on the 1077th position at Stalingrad, the women of the 1077th did the only thing they could think of: they lowered their anti-aircraft guns and began firing. The barrage not only slowed the German assault, but destroyed 83 tanks in the process. When German forces eventually took the 1077th's position, they were surprised to find that it had been women who had done so much damage.
(By the way, I have no idea if these two women where a part of the 1077th Anti-Aircraft Division. I don't know if they were at Stalingrad or if they even fought for the U.S.S.R. I do know that I wanted to include their pictures on this list, and the 1077th were too awesome to leave out. So I combined the two entries.)
4. Natalia Bode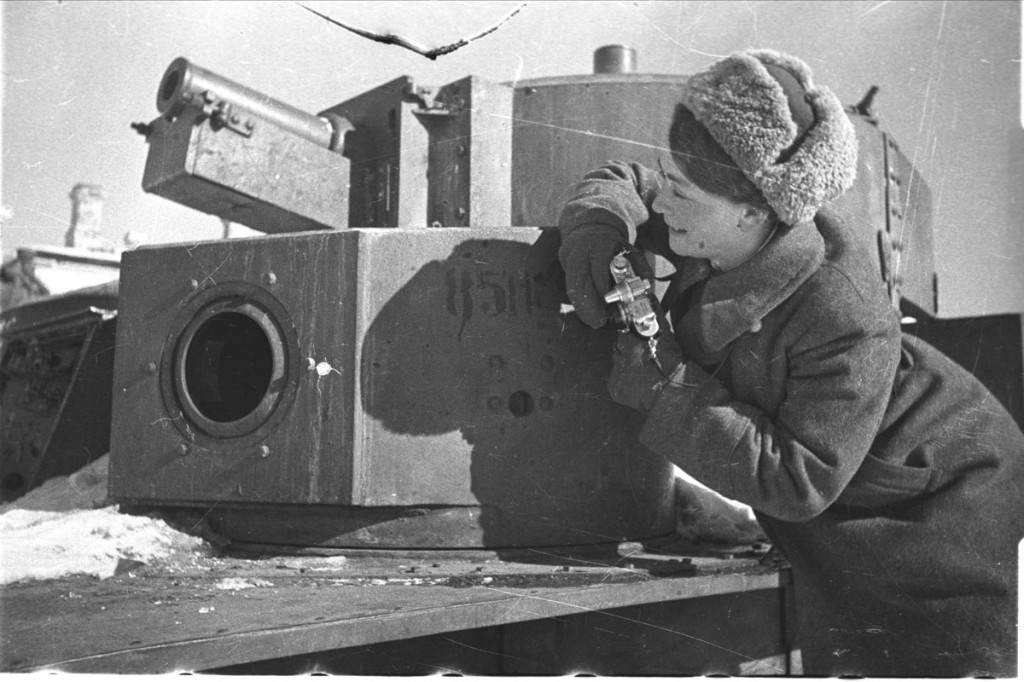 Natalia Bode was a Russian photographer who started her career taking pictures of parades and rural scenery. Shortly after Germany invaded, Bode's husband died defending the home country. Wanting to do somehow help the war effort, Bode volunteered to be a front line war photographer and she made her name taking pictures at Stalingrad for the Soviet Army newspaper. By the end of the war, Bode had earned the rank of lieutenant. Pravda and other national newspapers carried her photos.
2. and 3. Lyudmila Pavlichenko and Friend
The woman on the left is reported to be Lyudmila Pavlichenko, the most successful female sniper and one of the deadliest humans in history. In addition to earning a masters degree in history, Pavlichenko spent her much of her formative years practicing riflery, earning the title sharpshooter. When war came, Pavlichenko opted to become an infantryman instead of a safer position as a nurse. In 1942, Pavlichenko used her sharpshooting skills to record over 300 kills. Of these, thirty-six were German snipers. In June 1942, a mortar wounded Pavlichenko and the Soviet government decided that the woman would better serve as an ambassador than a sniper. From 1942 to 1943, Pavlichenko traveled across the United States, Canada, and Great Britain describing the U.S.S.R.'s struggle at Stalingrad, while imploring the nations to open a second front against Germany. She survived the war and worked as a historian for the remainder of her life.
The identity of second women in the photo is unknown, but she was probably one of the U.S.S.R.'s 2,000 female snipers.
1. Lydia Litvyak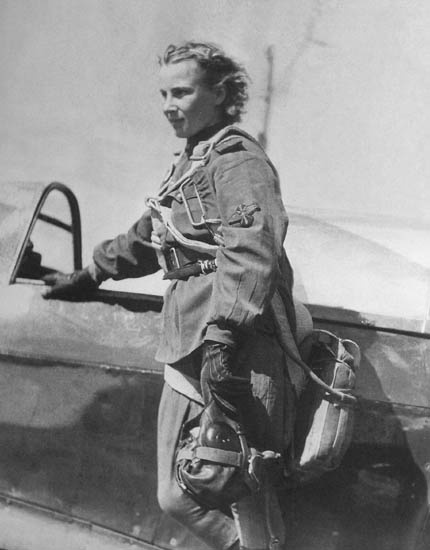 Like Mariya Dolina, Lydia Litvyak learned to fly as a member of a civilian flying club. Following the the German invasion of the U.S.S.R., Litvyak attempted to become a fighter pilot, but was turned down for lack of experience. Instead of taking this as a sign to seek a different job, Litvyak reapplied to the Soviet air corps but exaggerated her flight hours. It worked. After being accepted into a men's fighter regiment, Litvyak flew her first mission over Stalingrad. On her third mission, she recorded her first kills, shooting down a German Ju 88 and a Bf 109. Wolfram Freiherr von Richthofen–an ace and relative of WW1's Red Baron Manfred von Richthofen–had been the pilot of the second of these planes.
During later missions, Litvyak increased her number of kills to twelve solo kills and four shared kills. Although some historians dispute these numbers, there's little question that Litvyak downed at least five planes, making her one of two female aces in history. Owing to her beauty and her success as a fighter pilot, Soviet press releases began referring to Litvyak as the "White Lily of Stalingrad," a name that's been translated into the "White Rose of Stalingrad" in North America. Litvyak did not survive the war. In 1943, a German fighter shot down Litvyak's craft while she was on a bomber escort mission. It's believed that Litvyak is buried in a small town in southern Ukraine.
Like the other women on this list, Litvyak was a beautiful badass.
Well, congratulations, reader. You've just wasted fifteen minutes of your life on this nonsense. You could have read Faulkner for good writing or looked at Playboy for beautiful women, but you chose to go this route. We all know you made the wrong decision.
BONUS: Just so we're not considered sexist, here's one for the ladies.
0. Weird Nazi guy with a leaf on his crotch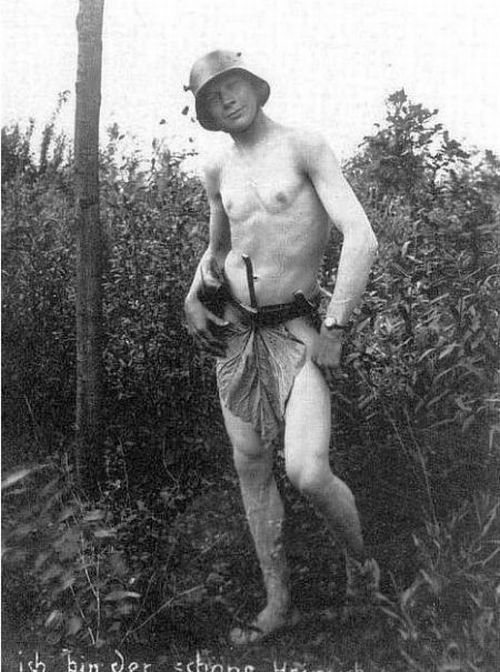 This is a real photo of a Nazi soldier from WW2. Be thankful the women of Stalingrad stopped these bastards.
By Brad Folsom
NOTE ON SOURCES! All other articles posted on this site use primary material, books and articles published by academic presses, or accredited websites as sources. We find the stuff that would be interesting to learn about, research, and write. We then look for pictures for our posts. Because this is an article on attractive women, we had to reverse the way we do things. We found pictures, then had to look for information. Because so little has been written about many of these women, we had to rely on Wikipedia and obscure websites for information. Places that likely have accurate information but it's not based on research that's up to our normal standards. So what we're saying is, we think we're right about the information on these women, but don't quote us. But then, why would you want to quote an article about hot women at Stalingrad, anyways?
(Visited 14,209 times, 352 visits today)